Apple Files Patent for Apple Watch Band-Based Hardware Sensors
Future Apple Watch bands could house electrical and data contacts, allowing more potential functionalities such as replaceable power sources or external sensors outside the wearable itself.
According to a new report from Apple Insider, the Cupertino company has been granted a patent by the US Patent and Trademark Office for a potential function called "Accessory Contacts":
In a patent granted to Apple by the US Patent and Trademark Office on Tuesday for "Accessory Contacts," the company suggests a solution could be found in the form of contacts embedded within the connector used to affix bands to the Apple Watch.

According to the filing, the system would be somewhat reminiscent of the existing method of connectivity for Apple Watch bands, with a section that slides in from a side and is held in place using spring-loaded pins that pop into recesses within the Apple Watch body. A button can be pressed to pull the pin sections back, allowing the band connector to slide out.
The pins would potentially function as a way electrical contacts could be made, not just as a point of anchoring. "Connections from components on the band could be led to each pin, which springs up and presses against an internal contact in the Apple Watch body's recesses as part of the locking mechanism," explains the report.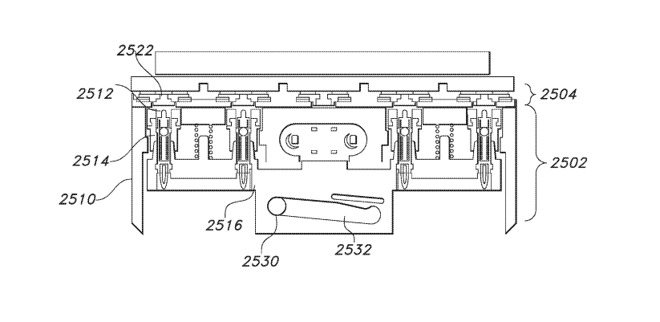 According to the report, this button would enable a user to control whether or not the connection is made through a "sled" that holds the pins. This function could also take the form of a kind of sliding switch that would keep the mechanism in either a sprung or retracted state.
"This form of system can also allow for a plurality of pins to be raised into the Apple Watch's body, both to increase how secure the band is in the device itself, and to offer more electrical connections," explains Apple Insider. "This can enable, for example, one pair to handle power exchanges, while another could deal with data transfers."
This isn't the first time Apple has considered the possibility of adding hardware to the Apple Watch band. The company filed a patent earlier this year for an Apple Watch band-based camera.