[Updated] Is This The Next-Generation iPhone 5?
Update 2: New video embedded:
Update 1: Looks like Apple has pulled the video from YouTube!
Today, a YouTube video posted by smartphone parts firm Global Direct Parts claims to be showcasing a comparison of parts between the iPhone 4 and next-generation iPhone 5!
However, since it cannot be confirmed if the new device in the video is actually the iPhone 5, the video also indicates that it could be the rumored Verizon CDMA iPhone 4. But, the iPhone 5 in the video has a SIM-card slot, so unless this unreleased device is both CDMA and GSM, it probably is not the rumored Verizon iPhone.
However, this whole thing could also be staged, but it's much more fun to hope that this is the real deal!
As seen in the video below, there are numerous similarities between the devices and also a few differences. Differences mostly include internal screws and small internal parts, but the outside has seen the biggest change. Most notably, the black antenna lines that debuted on the iPhone 4 have been moved around on the supposed iPhone 5.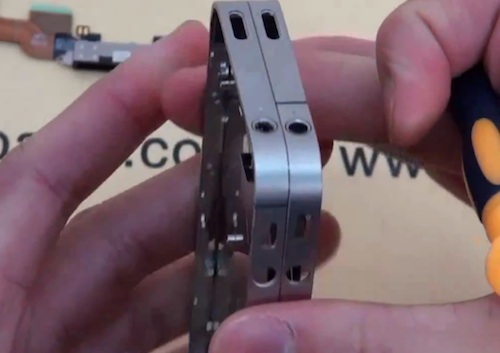 The "Antennagate" line of the iPhone 4 remains on this new iPhone 5, but an additional antenna line is now visible above the silent switch. The top antenna line on the iPhone 4 has also been moved to above the SIM tray on the iPhone 5. The movement of these antennas has further caused a slight upward shift of the silent switch on the supposed iPhone 5.
Check it out:
The video ends with a teaser of additional leaked iPhone 5 parts such as the internal processor and LCD screen.