How to Convert Videos for your iPhone!
**Want a FREE InvisibleShield Full Body iPhone Case? Enter to Win HERE!**
**Using an iPhone in Canada? Vote here to tell me where you are located!**
The worst part about waiting somewhere is having nothing to do. That has all changed now that YOU have an iPhone! Now you can listen to mp3s or watch videos. What's the easiest way to convert videos for your iPhone? Well, I have a great program I'm going to review and it's called Movies2iPhone.
I was contacted via email by Olivier, the creator of Movies2iPhone. The best part about the program is that it's small, easy to use, fast, and best of all–it's freeware! Olivier has spent a lot of time tweaking this program and recently updated it to make it even better.
If you want to transfer videos to your iPhone, they must be converted so they are compatible. This is where Movies2iPhone will come in.
Movies2iPhone converts any video (Divx, Xvid, avi, mpeg, wmv, asf, mov, vob, etc…) to a format optimized for your iPhone or iPod touch.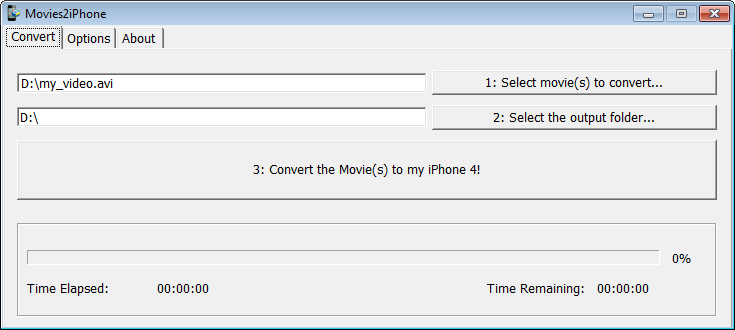 I tested out this program by converting an 8mb movie clip and it completed in 15 seconds! Afterwards, you end up on a landing page with instructions on how to put movies onto your iPhone. Previously, I was using Videora to convert movies for my iPhone. However, I am going to make the switch to Movies2iPhone as Olivier has worked pretty hard tweaking and updating the app.
Upcoming updates include translations in more languages, "Batch-mode", Drag-and-Drop and
auto-move of the converted videos to the iPhone or iPod Touch. Thanks again for your hard work!
Click here to download Movies2iPhone
If you enjoyed this post, please subscribe to my RSS feed, so you won't miss any updates!